Bulgarian icons - Pavlov family paints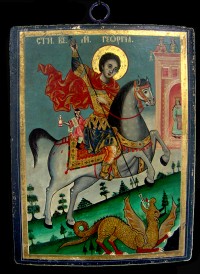 Today, there are still people who follow the tradition of the art of iconography. One of the families where the love and the skill to create icons is hand down from generation to generation is the Pavlov family from Sofia, Bulgaria.
The founder of the iconographic tradition in this family is Boris Pavlov, whose works are from the eighties of the past century. His loyal followers are his sons Georgi Pavlov and Krasimir Pavlov. Their icons are painted in the style of the old masters from the traditional Bulgarian schools. Many of them are owned by private collectors and cultural institutes in Bulgaria, Italy, Germany, Greece, Switzerland and etc. Another part of them is given as a donation to different churches in the country.
Krasimir Pavlov who has been living in Madrid, Spain for 8 years and Georgi Pavlov who has been living in Miami, USA for 1 year, many times have participated in charity auctions in Bulgaria and around the world with their works.
The tradition of iconography in the family probably would not end because of the youngest member of the family Boris Pavlov who shows notable talent and zeal in drawing.
Advertising and Design